Indian Style baked potato cakes Recipe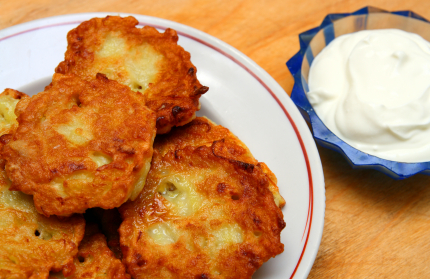 1 teaspoon canola oil ( 5ml)
½ teaspoon mustard seeds ( 2.5 g)
½ teaspoon cumin seed ( 2.5 g)
1 teaspoon kosher salt ( 5 g)
4½ cups peeled shredded baking potatoes ( 1013 grams/1 kg)
2 tablespoons chopped fresh parsley (30 g)
2 tablespoons canola oil (30 ml)
¼ teaspoon ground turmeric ( 1.25 g)
¼ teaspoon fresh ground pepper ( 1.25 g)
1 dash ground red pepper
cooking spray
5 tablespoons light sour cream ( 75 ml)
2 tablespoons of chopped fresh cilantro (30 g)
1 teaspoon of minced garlic ( 5 g)
1 teaspoon onion powder ( 5 g)
Heat up oven to 400°F.
In a small frying pan over medium heat, pour 1 teaspoon oil. Add mustard and cumin seeds to pan; Sauté for 2 minutes or until mustard seeds pop, stirring constantly. Remove from pan and set aside.
Place the spice mixture and salt in a mortar; pound seeds into small bits with a pestle and set aside.
Remove excess moisture from shredded potatoes by gently squeezing them.
Mix shredded potatoes, spice mixture, parsley, 2 tablespoons of oil, turmeric, and peppers in a large bowl.
Disperse mixture evenly into 10 parts, about ⅓ cup. Place evenly on baking sheet coated with cooking spray. Flatten to ½ inch thickness.
Bake at 400°F for 16 minutes or until golden. Turn them over and bake for an additional 5 minutes.
Serve 2 potatoes with 1 tablespoon of sour cream for each person
ENJOY your baked potato cakes!
Recipe by
Mashed Potatoes Recipe
at http://www.mashed-potatoes-recipe.com/indian-style-baked-potato-cakes-recipe/