Baked Potato Meat Pie Recipe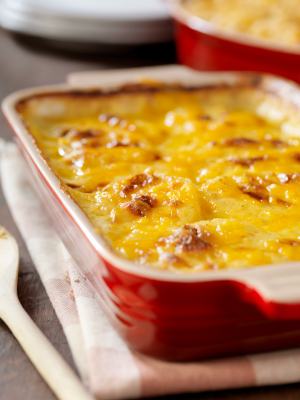 5 lbs baking potatoes ( 2 kg)
¼ teaspoon salt ( 1.25 g)
¼ teaspoon pepper (1.25 g)
6 -8 slices bacon, cooked and crumbled
1 cup sour cream (240 ml)
1 cup mayonnaise (240 ml)
1 cup shredded cheddar cheese, if desired (240 g or more)
2 green onions, chopped
First, preheat oven to 400 degrees. While waiting, spray a 13 x 9 x 2 inch baking dish with nonstick pan coating or grease lightly with solid shortening.
Scrub potatoes and prick with a fork. Bake for 1 hour or until tender. Allow the potatoes to cool.
When cool enough to handle, slice baked potatoes into 1 inch cubes or smaller. Place half of the potato mixture in a prepared baking dish. Sprinkle half of the salt, pepper and bacon. Pour with half of the sour cream & cheese.
Repeat instructions for another layer. Make 2-3 layers. Finally, bake it uncovered, at 350 degrees for 20 minutes or until cheese is melted.
Sprinkle with chopped green onions to garnish. Serve dish and enjoy!
For a very cheesy potato meat pie, you could top it with more shredded cheese after baking. You could also include ranch dressing mix to the potato mixture before baking to make it more flavorful!
Recipe by
Mashed Potatoes Recipe
at http://www.mashed-potatoes-recipe.com/baked-potato-meat-pie-recipe/